WWISCAA - A Community Action Agency Serving
Warren • Washington • Issaquena • Sharkey • Yazoo Counties
Mission
To provide quality services in a timely manner to individual/families in need by mobilizing all available resources to enhance the economic and social conditions that encourages family values and promotes self-sufficiency and stability.
Vision
WWISCAA has a forward-looking, dynamic vision for the region that it serves. The Mississippi Delta is a thriving region with families who are safe, stable and economically self-sufficient; children who are healthy, enter school ready to learn and successfully graduate; parents who are concerned, supportive and involved with their children; and neighbors who know and care for each other. There is an adequate supply of good jobs and affordable housing. Public agencies, schools, businesses, churches and nonprofits work together to meet community needs. There is a high level of community awareness and engagement contributing to a better quality of life for everyone. WWISCAA is a sustainable organization with stable, long-term discretionary funding, an engaged board, a viable staff, new programs to meet changing community needs, strong partnerships and high visibility and broad influence at the local, regional and national levels.
History
Warren-Washington-Issaquena-Sharkey Community Action Agency, known as WWISCAA, is a private non-profit organization established in 1972. The agency's administrative office is located at 1544 Old Leland Road, Greenville, Mississippi. WWISCAA provides comprehensive human service programs in Warren, Washington, Issaquena, Sharkey and Yazoo counties. Other counties in which limited services are provided include Humphreys, Desoto, Tate, Tallahatchie, Panola and Quitman. The agency has forty (40) years of experience in administering anti-poverty programs including: job training, home renovation, child care, adult day care, teenage pregnancy, homeless, after-school care, youth at risk, tutorial services, transportation, meals for the elderly and handicapped, energy assistance, family health care, outreach and referral, family counseling and case management. WWISCAA provides comprehensive services to the entire family through the case management approach. These programs are designed to foster family stability and promote self-sufficiency.
WWISCAA
is governed by twelve (12) Board members. The Board is comprised of members with diversified backgrounds, such as in business, elected public officials, bankers, attorneys, and client representatives of low-income individuals and families in the area server. The Board of Directors establishes the agency's policies and employs an Executive Director who is responsible for the day-to-day operations.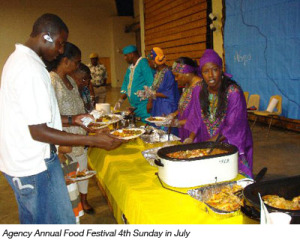 The agency has two (2) divisions:
Administrative and Programmatic. The Administrative Division is managed by the Director of Fiscal and Procurement. This individual has a Bachelor of Science degree in Business Administration and fifteen (15) years experience in governmental accounting. The Director of Fiscal and Procurement is supervised by the Executive Director. This division includes a centralized accounting system, purchasing, personnel and inventory. Also, under the division is the management information system. The division has the ultimate responsibility in enforcing internal control measures designed to safeguard agency's assets. The Director of Programs has a degree in Nursing and brings with her the empathy of nursing earned through her five (5) years as a practicing and/or head nurse. She has twelve (12) years business experience as a director of sales for a major hotel, which has brought a new dimension to program operations, i.e. quality services in a cost effective way. She has a thorough knowledge of MSROMA and is charged with the training of others.